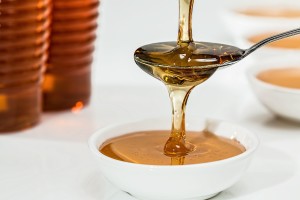 Honey isn't just a sweet treat. According to women's health expert Marla Ahlgrimm, the naturally delicious semi-liquid has a number of health and beauty benefits. Here are just a few:
Honey is moisturizing
According to Marla Ahlgrimm, women with excessively dry but sensitive skin may wish to look at honey as a facial moisturizer. The retired pharmacist explains that the sugars in the sticky syrup are natural humectants that can actually boost the skin's water content, even after being washed away. As an added bonus, honey enzymes will gently exfoliate skin.
Honey fades scars and may help heal certain types of wounds
Honey was used by Native Americans to help warriors injured in battle or while hunting. It is a natural antioxidant that Marla Ahlgrimm claims may even reduce scarring. Honey, when applied to a skin abrasion, can reduce the chances of infection if used prior to bandaging. Simply add a dab to the wound, rinse, and wrap.
Honey may be used to treat acne
Women who suffer with extreme hormone shifts may find the anti-inflammatory properties of honey can help combat hormone-related acne. Marla Ahlgrimm says a mask of raw manuka honey may be applied to the skin and washed off after half an hour. Not only will this quell inflamed blemishes but can help control oil production, reducing future outbreaks.
Honey makes the perfect natural conditioner
A teaspoon of organic honey mixed into conditioner will help hair retain moisture. For the same reasons that honey makes an exceptional facial moisturizer, Marla Ahlgrimm says it makes the perfect conditioner or supplement to commercial products. It is important to note, however, that honey must be rinsed out completely, otherwise it will leave a sticky residue in the hair.